The Permanent People's Tribunal (PPT) Session on Agrochemical Transnational Corporations Case Summary
The People's Call for Justice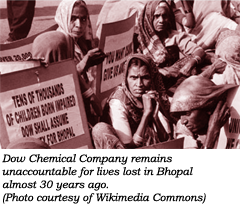 Almost 30 years ago, the world was brought to a standstill when a pesticide plant in Bhopal, India, exploded. It instantly killed almost 8,000 people and poisoned hundreds of thousands more who are suffering to this day. December 3, 1984 — the day of the Bhopal Tragedy — was a wake-up call on the destructive and unmerciful nature of pesticides. The company responsible for the tragedy should have been punished and rendered powerless to inflict more suffering to humanity. Yet it managed to escape the full extent of its liability for the horrific crime.
Agrochemical corporations have not only escaped accountability for crimes such as the Bhopal Tragedy, but have grown tremendously in wealth and power, profiteering from the hazardous products and technologies that they have pushed into agriculture, the heart of the world's food system.
Exposure to highly poisonous chemicals is a tragedy that happens every single day in almost every part of the globe. A woman plantation worker in Malaysia mixes deadly chemicals with her bare hands, a child in Paraguay inhales the toxic fumes of pesticides used on a field of genetically-engineered crops, a mother in Alaska feeds her infant breast milk contaminated with pollutants.
This December 3 to 6, 2011, a Permanent People's Tribunal (PPT) will convene to indict agrochemical transnational corporations (TNCs) for cases brought by farmers, agricultural workers, Indigenous Peoples, fisherfolk, women, children and youth, scientists, consumers, and activists. Whether as individuals or as a community, the Complainants are victims and survivors of gross, widespread, and systematic human rights violations by agrochemical TNCs.
The indictment will be brought through Pesticide Action Network (PAN) International, a global network of more than 600 organisations in over 90 countries. For nearly three decades, PAN has been working to eliminate the use of pesticides and other hazardous technologies, based on the principles of food sovereignty, gender justice, and environmental sustainability. In this landmark Tribunal, PAN International will represent those who are without effective recourse to justice.
The PPT is an international opinion tribunal that aims to raise public awareness of situations of massive human rights violations when such situations receive no institutional recognition or response. Started in 1979 using a rigorous legal process, the PPT has held 35 sessions exposing various forms of human rights abuses through alternative judgments and legal articulations. The PPT was borne out of people's struggles against exploitation and oppression and has become a vital part of these struggles. Unlike existing legal mechanisms controlled by the interests of a few, the PPT draws its legitimacy and authority from the people.
---