Witnesses assert criminal liability of Big 6 agrochemical companies
Witnesses who testified in the four-day Permanent People's Tribunal (PPT) Session on Agrochemical Transnational Corporations (TNCs) assert that the pesticide industry's Big 6 should be held criminally liable for violations of human rights, as jurors are set to release today a historic verdict on the indictment brought forward by Pesticide Action Network (PAN) International on behalf of victims and survivors around the world.
"The Tribunal has shown that human rights violations by the pesticide and biotech industry are not isolated. With impunity, they violate economic, social and cultural rights, civil and political rights, and in particular the rights of women and children. Current legal and policy frameworks have made it impossible for communities and vulnerable groups to access justice. That is why the PPT verdict is highly important: it would send a message throughout the world that a global mechanism is urgently needed to hold these TNCs accountable," said Sarojeni Rengam, PAN AP Executive Director, who delivered the People's Submission.
Victims of pesticide poisoning, scientists and health experts, delivered testimonies that strongly pinpoint the culpability of Monsanto, Syngenta, Bayer, BASF, Dow Chemical, and DuPont in cases that range from poisoning of the Arctic region to the death of bees.
Petrona Villasboa, the mother of eleven-year old Paraguayan Silvino Talavera who died last January 7, 2003 because of exposure to glyphosate (Round-up Ready) being applied to Monsanto's genetically engineered RR soybeans, told the Tribunal, "We have proof that there was poison in his blood. We want Monsanto accountable for the death of my son."
Nagama Raman, a former oil palm plantation worker who was forced to resign because of ill health caused by paraquat spraying, told the Tribunal: "Paraquat is banned in Switzerland (Syngenta's home state), why then is it still sold and used in Malaysia?"
Dr. Abou Thiam from Africa, who testified that there are 100,000 tonnes of prohibited and obsolete pesticides in the region which are often stored in deteriorating and leaky containers said, "Obsolete dumps in Africa are like ecological bombs waiting to go off."
A former child labourer from India, Ashwini, told the Tribunal how she worked from the age 7 to 11 in cotton plantations, where she was applying pesticides for wages amounting to $0.50 a day. It is estimated that around 170,000 children, mostly girls, are exposed to Bayer's endosulfan, monocrotophos, and other toxic chemicals while working in cotton plantations.
Dr. Tyrone Hayes, a U.S. scientist who conducted studies linking atrazine to the feminization of frogs, told the Tribunal: "Syngenta asked me to manipulate data, hide data, or purchase my data." Hayes refused to do so, and was threatened and harassed repeatedly by the company.
British beekeeper Graham White testified that queen bees used to live 2 to 3 years; now they only live for 2 to 3 months because of Bayer's neonicotinoid pesticides, affecting not just the livelihoods of beekepers but food security as well.
U.S. farmer David Runyon, who was blacklisted by Monsanto because of contamination of his fields with genetically-engineered (GE) crops, testified that "a Monsanto attorney once said, 'taking money from a farmer is like taking candy from a baby.'" He was referring to how Monsanto has taken farmers to court for alleged "seed piracy," and forced them to pay the company millions of dollars.
Vi Waghiyi, an indigenous leader from St. Lawrence Island in Alaska, submitted a video testimony that told of how their traditional food sources have been contaminated by pollutants that persist in the environment and accumulate in the Arctic such as Syngenta's DDT and chlordane, Bayer's endosulfan, and Dow's chlorpyrifos "Vital foods that have sustained us for generations are now killing us," she told the Tribunal.
Brazilian farmer Cesar Barbosa, survivor of a 2007 incident where a farmer was killed by Syngenta's guards while protesting illegal experiments in GE soy and corn, told the Tribunal, "The Swiss government publicly apologized for Syngenta's violence, but no company official was punished. Syngenta also continues to expand its market."
"The testimonies of these witnesses clearly show that the Big 6 is guilty of gross, systematic, and widespread violations of human rights by what they have done and what they have failed to do. They are guilty of wilfully manufacturing and selling products that have harmed humans and the environment, of manipulating science and the truth, of violating the sovereign right of peoples. They are guilty of evading responsibility for their crimes and denying victims proper redress," said Jobert Pahilga, PPT prosecutor.
PAN International recommended to the PPT the elimination of highly hazardous pesticides, the protection of genetic resources, the advancement of food sovereignty and ecological agriculture, restructuring of international financial institutions, and upholding the precautionary principle.
The PPT Session Agrochemical TNCs drew the support of individuals and organizations around the world. More than 400 organizations representing civil society and people's organizations of farmers, fisherfolk, pastoralists, and indigenous peoples, as well as 7,000 concerned individuals signed on to a petition circulated by PAN International. "This overwhelming show of support from around the world bolsters the legitimacy of this Tribunal as a recourse for people who have been denied justice by their own governments and international institutions that aid and abet chemical companies in their war against all forms of life," said Rengam.
---
Support the tribunal. Sign the petition at
http://www.agricorporateaccountability.net/petition.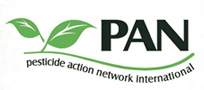 For more information, kindly visit our website: http://www.agricorporateaccountability.net/.
Contact us at inquiry@agricorporateaccountability.net, media@agricorporateaccountability.net.
Be updated via Facebook (Pan Asia Pacific) or Twitter (PANAsiaPacific).